Thrive's Division of Area 7 is an Area Agency on Aging (AAA). An Area Agency on Aging (AAA) is a public or nonprofit agency designated by a state to address the needs and concerns of all older persons at the regional and local levels. The Division of Area 7 is focused on developing a comprehensive array of services which will prevent inappropriate institutionalization and encourage self-sufficiency among adults 60 and over as well as disabled youths and adults
With an aging population comes an increasing need for healthcare, long-term care, and social services to support older adults as they age. Adults over age 65 have different healthcare needs than children and younger adults because they may have multiple chronic health problems such as diabetes, heart disease, arthritis, depression, and hypertension. It is estimated that 90% of adults over age 65 experience one or more chronic condition, and need specific treatments and medical care, setting them apart from the rest of the population.
Older adults not only rely on their primary care physician, but also on long-term care services and supports. Teams of physicians, long-term care assistants, nurses, social workers, and family caregivers often work together to provide tailored and coordinated care to older adults. Access to health care is critical for older adults to age in place.
Because many retirees are choosing to move to rural destinations and keep their independent lifestyle, many rural counties are naturally becoming retirement communities. However, these communities have fewer options for geriatric care teams and accommodations specifically designed for older adults, such as retirement communities and assisted living facilities.
Thrive's Division of Area 7 focuses its efforts on empowering seniors and individuals with disabilities to remain living safely in their own homes by providing a comprehensive array of information and supportive services. Thrive builds bridges of care for older adults who choose to remain independent members of our community. Your supports help us to provide key support services to individuals in need.
Thrive West Central (Thrive) is a not-for-profit, 501(c)3, public service organization that is designated as an Area Agency on Aging (AAA) for Region 7.
Indiana has 15 Area Agency's on Aging (AAAs) (Areas 6 & 9 have combined and operate as one), which were established in 1974. Indiana's AAAs operate independently and receive funding through FSSA, the Older American's Act, Title III, Medicaid, Medicare, housing initiatives, and other fundraising and revenue generating services.
Thrive's Division of Area 7 Agency on Aging and Disabled Services serves over 5000 individuals and their caregivers each year providing more than 50,000 hours of direct services. Thrive's AAA has an annual impact on more than 35,000 community members living within West Central Indiana.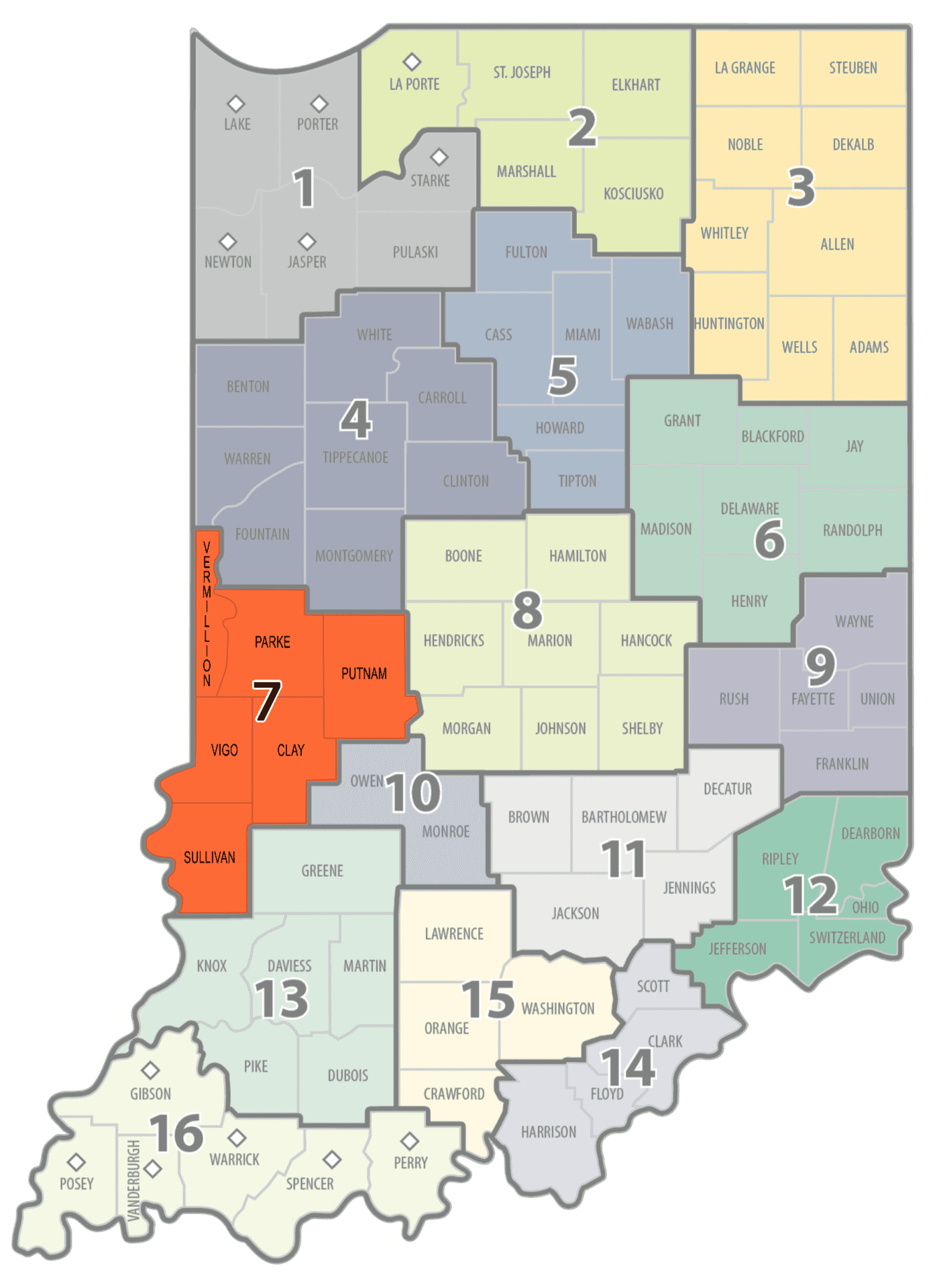 All AAAs coordinate and offer services that help older adults and individual's with disabilities remain in their homes if that is their preference, aided by services such as home-delivered meals, homemaker assistance, and whatever else it may take to make independent living a viable option.
By 2030, one out of every five people (around 23%) living in Indiana will be a senior citizen (ages 65 and older), according to population projections released by the Indiana Business Research Center.
The average annual income for individuals 60+ is $20,487. In addition, only 45% have any retirement income, which indicates a greater number of older Hoosiers are relying solely on social security as main source of income. The average annual social security income for a single individual is $10,989.
Impact 5000+ Adults & Families with Direct Services
Provide 50,000+ Hours of Direct Services
Regional Impact on 35,000+ Individuals
We do it because we care. We don't do this for the income. We do it for the outcome. We do this because we believe one person can have a huge impact on a community. Our team is filled with passionate and knowledgeable advocates. We are here for those who do not have a voice or know where to go for help in times of crisis. We are here to serve. We treat all individuals like family to give them the care and support they need. Our loved ones and community members provided for us all their lives, it's our chance to take care of them in their time of need.
Take a couple of minutes to watch as our staff share why their jobs are not just jobs.
Units of Home & 
Community
Care
Transportation
Trips
Provided
Vaccine
Assistance
(2021)
Promised Growth. Dedicated Quality of Life. Dedicated Care.