In May 2022, Thrive West Central secured an Environmental Protection Agency Brownfields Assessment grant. The award of $400,000 will enable Thrive to partner with the Vermillion County Redevelopment Commission to complete activities that to will assess, inventory, characterize brownfield properties, create a comprehensive brownfield plan, and develop site-specific reuse plans. This project will include community involvement activities that educate and elicit public participation regarding reuse options. This project aims to encourage the revitalization and reuse of brownfield sites within Vermilion County and reverse these properties' effects on local communities. The project will be completed by August 2025.
EPA funding to assist in addressing brownfields in towns that do not have the resources. Taking advantage of this financial assistance will further VCRC's commitment to redeveloping brownfields and increase investment opportunities. This project lays a firm foundation for improving the county's economy through the assessment, cleanup, reuse, and revitalization of abandoned, unused, blighted properties. Successful project completion will put the county in good standing for potential funding to conduct clean-up and reuse efforts of identified sites.

What is a Brownfield Site?
A brownfield is a property that is difficult to develop because it is believed to have the presence or potential presence of hazardous substances, pollutants, or contaminants. Brownfield sites are often associated with:
Gas Stations
Automotive Repair
Rail Road Facilities
Dry Cleaners & Industrial Laundry
Metal Salvage & Recycling
Illegal Dumping
Common contaminants found at brownfields sites may include petroleum products, lead, asbestos, hydrocarbon compounds, arsenic, metals, and a variety of manmade chemicals.
Involvement in locating potential brownfield sites
Input on what the public needs in redevelopment sites
Assessments of Brownfields & Cleanup Plans
Assessments of Brownfields & Cleanup Plans
Most people view these properties as eyesores and a blemish on their community. However, the effects of a brownfield site run much deeper.
Brownfield sites:
Cast the community in a negative light
Stunts growth and investment
Creates a lack of developer interest
Causes relocation and disinvestment
Decreases the tax revenue
Negatively affects the communities pride
Provides opportunities for increased criminal incidences
Creates quality-of-life concerns and
Exemplifies lack of funding, resources, and interest
The project's ultimate goal is to reverse the detrimental effects caused by brownfield properties and, create a healthier environment to live, work, raise a family, and promote health, quality of life, and community pride.
Completed assessments are used to determine site activities. When a brownfield site is restored, it becomes eligible for redevelopment. Brownfields can be transformed into many things, such as beautiful functional parks and community centers.
Project activities and outcomes:
Develop an inventory of brownfield sites located within Vermillion County, created to help the County manage and track locations and monitor stages of reinvestment, redevelopment, reuse, remediation, and revitalization activities.

Create a Brownfields Comprehensive Plan that sets brownfield goals and priorities to generate reinvestment, redevelopment, reuse, remediation, and revitalization activities.

Complete environmental assessments on properties potentially impacted by hazardous substances.
Create Remediation Action plans for specific sites
Develop Brownfield redevelopment/reuse plans on selected sites to position them for redevelopment
Conduct community involvement activities to garner and utilize community input.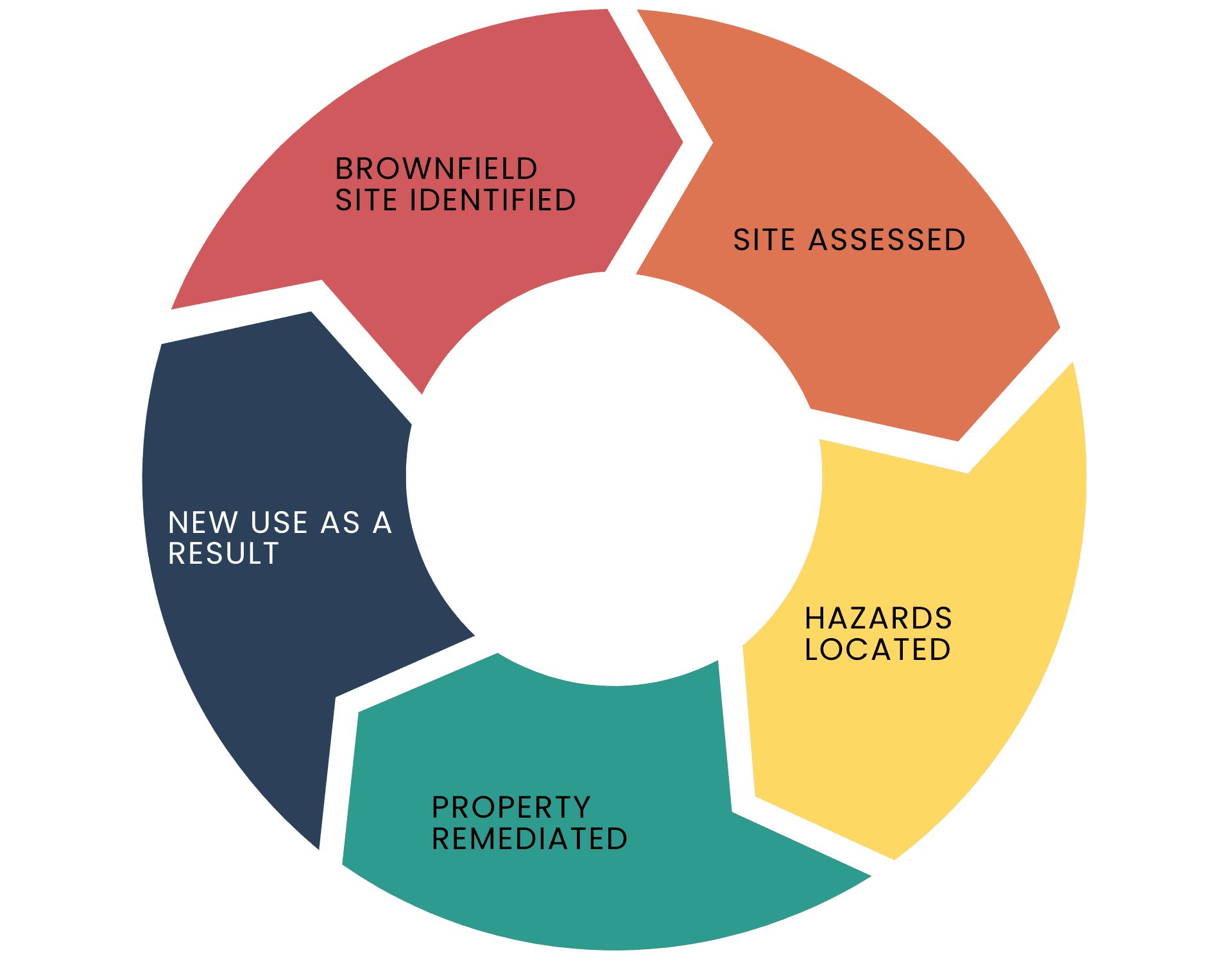 Property assessments will only occur when owner involvement, consensus, and participation exist. 
What happens to a brownfield site – whether it remains, is demolished, or is put to use, dramatically affects the local community and the people that live there. Therefore, community input on brownfield locations and end use is paramount to community health and well-being.
Have you ever passed a property and thought someone needs to do something with that building? Or perhaps you've imagined what it could be used for (a dog park, community garden, apartments, etc.). Well, now is your chance to influence what is done.
(Submit your input by clicking the button above)
All information received will be reviewed and incorporated into the comprehensive brownfield plan where appropriate. The plan will be made available to the public and elected officials.
Find out more about this project by attending your Town Council meeting or stop and see us at one of the local events.
Promised Growth. Dedicated Quality of Life. Dedicated Care.